Convert your Media with ease
A media converter is a networking tool that transforms Ethernet or other communication protocols transparently from one cable type to another, typically from copper CATx/UTP to fiber. To extend the length of copper network cables and improve immunity to electromagnetic interference, media converters are frequently used in pairs to integrate a fiber segment into the system. Additionally, they can change fiber modes, link speeds, and LAN extensions.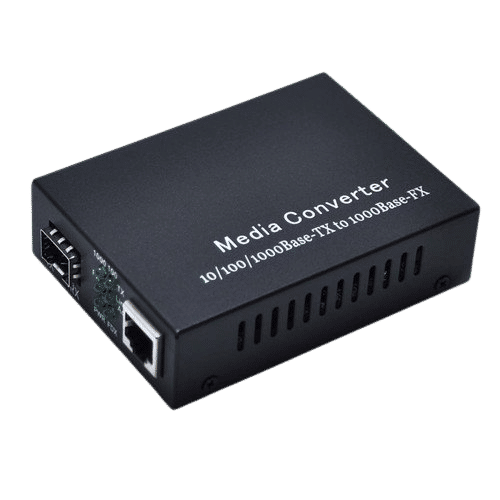 Convert your media quickly and easily with our Media Converter services
Media Converter services provide an easy and convenient way to convert any audio or video file into a format that is compatible with multiple devices. Our services are fast, reliable and secure, ensuring that your media files are properly converted for optimal playback on any device. We take the hassle out of converting your media files.
Copper-to-Fibre Media Converters
Copper-to-fiber media converters make it possible to connect Ethernet devices with a copper basis over a fiber optic link. This increases the length of fiber optic cable links, shields data from noise and interference, and gives a network more bandwidth capacity for the future.
Fiber-to-Fibre Media Converters
The conversion of wavelengths is supported by fiber-to-fiber media converters, which link various fibre optic networks. They offer communication not just between dual and single fibre, but also between single-mode and multimode fibre.
PoE Media Converters
For reliable and affordable fibre distance extension, Power-over-Ethernet (PoE) media converters are used with PoE-powered devices. IP phones, video conferencing equipment, IP cameras, and Wi-Fi devices can all be powered over copper UTP cable by PoE media converters.